The following was originally published in May 2009.
There are two reasons to allow licensed carrying concealed carry of deadly weapons on a college campus. The first is a legal entitlement to self-defense which holds true in the countless other locations within a given state, without the need to demonstrate a need for self-defense.
The second reason is the actual need for self-defense. Critics of Students for Concealed Carry often claim that because colleges are often safer environments with less crimes per capita than the rest of the United States, concealed carry and armed self-defense are unnecessary.
SCCC has never disputed that colleges overall see less crime; although exhaustive records of crime on college campuses are not kept, studies do indeed indicate that campuses overall have comparatively lower crime rates.1 It is logical to conclude that a campus typically populated by students (averaging 18 to 22 years of age), staff and faculty would be less inclined towards crime, and that if anything else, poor students make poor robbery targets.
However, it is not logical to compare select zones of a city street to national averages and declare them "safe" and therefore off-limits to concealed carry. Crimes are committed in new locations every day, and no one ever expected a quiet college in Blacksburg, Virginia to become the target of a psychopath's killing spree. (A cool explanation of how incredibly unlikely a killer would choose their school is useless to students cowering behind desks.)
While it may be safe to say colleges overall are less prone to crime than national averages, these numbers are useless in determining an individual's personal vulnerability to robbery or rape, or a campus's vulnerability to mass shootings.
Despite being lower, the statistics clearly show that thousands of crimes take place on college campuses daily. In 2001 alone, 610 murders and 11,659 robberies were reported across college campuses in America.2From 2005 to 2007, more than 100 murders, 16,000 assaults and 10,000 forcible sexual assaults were reported on college campuses – amounting to an average of more than nine sexual assaults a day.3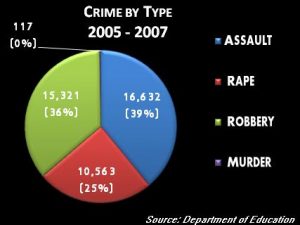 Reporting Weaknesses
There are multiple difficulties to compiling and sourcing accurate tallies of crimes committed on college campuses. Large portions of data in this report were taken from the Department of Education, yet on its website, it offers this cautionary note:
The statistics found on this website represent alleged criminal offenses reported to campus security authorities and/or local police agencies. Therefore, the data collected do not necessarily reflect prosecutions or convictions for crime. Because some statistics are provided by non-police authorities, the data are not directly comparable to data from the FBI's Uniform Crime Reporting System which only collects statistics from police authorities. The site contains a glossary that provides definitions for the various crime and geographic categories presented in the reports. Please note that valid comparisons of campus crime are possible only with study and analysis of the conditions affecting each institution.
Many colleges are mingled in or near busy city blocks with high rates of crime, yet if a crime is committed off of the campus boundary (for example, a student walking from campus to an apartment is accosted and robbed) it is not included. This number also does not include crimes that go unreported.
Although federal law requires a college to report if a convicted sex offender is living on campus, there are no requirements to inform students about sex offenders living close by.3 For example, a report by the Associated Press notes
"In San Diego, there are 47 registered sex offenders within a two-mile radius of San Diego State University and five within two miles of the University of California San Diego.
Sixty offenders live within a mile of the University of Southern California in Los Angeles. Nine live within a mile of Duke University in Durham, N.C. In Chicago, six can be found within a mile of Northwestern University. Within a two-mile radius of Jacksonville University in Florida are 93 paroled sex offenders." 4
Campus Shootings
Readers will scarcely need reminding that shootings take place on college campuses, but the following map may help illustrate the number of shootings that have taken place in addition to Virginia Tech and NIU:
Could Students Use Guns in Self-Defense Successfully?
It is often claimed that students could not possibly react with the speed and proficiency required to take down an active shooter. Neglecting the fact that these citizens (age 21 and older in most cases) already carry elsewhere and are trusted with that ability, as well as the fact that citizens are not required to perfect their skill in self-defense before exercising the right to self-defense, we present documented incidents of successful student self-defense.
Arizona, October 16, 2008
A University of Arizona student shoots two intruders in self-defense.
South Carolina, August 9, 2008
A Citadel military school student successfully scares off a bat-wielding road rage driver by brandishing a handgun in self-defense.
Michigan, January 20, 2008
A University of Michigan student shoots and kills two intruders in self-defense.
Utah, September 18, 2007
A Utah Valley State College licensed to carry a concealed weapon shot a pit bull that was attacking him. The animal survived the shooting, and at the student's request, no charges were filed against the dog's owner.
California, April 25, 2007
University of Southern California students overpowered a man, taking away his firearm and holding him at gunpoint for police. The man had become violent and threatening towards a female at a student party and refused to leave.
Ohio, April 24, 2007
After a man demanded entry to a University of Akron student's apartment and threatened him with a gun, the student returned fire with a roommate's gun. The suspect then fled the scene.
Texas, January 25, 2007
A Texas Tech student with a concealed carry permit grabbed his gun and hid when he heard someone trying to break in to his house. When the perpetrators successfully gained entry, the student took aim at the intruders. One fled, the other was detained for police.
Texas, January 24, 2007
A Texas Tech student with a concealed carry permit returned home to find his car and home broken into, with the perpetrators still inside the house. The student fired two warning shots, causing the would-be thieves to flee.
Florida, September 8, 2006
Two South Florida Community College students were attacked outside their apartment, but one used a .45 handgun to shoot one of the attackers in the chest. The other fled.
Virginia, December 10, 2005
A Virginia Commonwealth University student was initially charged with murder after shooting an armed gang member in a confrontation outside a coin laundry business, but was cleared by authorities two months later when it was learned he acted in self-defense.
Georgia, September 19, 2005
After dialing 911, a Mercer University School of Law student shot and killed a man that had broken into his home.
Kentucky, May 2, 2005
A University of Kentucky student was cleared of wrongdoing after shooting a Louisville man who was robbing him outside a Lexington apartment complex.5
Conclusion
While crime on a campus may be rarer than in the rest of America, it still happens. Neither police (unless they happen to be within screaming range) nor cameras nor text alerts can protect you from an armed thug bent on taking your possessions or your dignity by force.
Until college campuses can guarantee a student will never encounter a threatening situation, they must never prohibit students from their own means of protection. Because ultimately, the only person available to protect you 24/7 is you.
Further links:
UCrime.com – Crime at my school (Search recent criminal activity on your own campus)
Office of Postsecondary Education – Individual Campus Reports (Historic Crime Records by individual Institution)
School Violence Resource Center's report on college crime
The Chronicle of Higher Education Lists of Older Crime Records
Office of Postsecondary Education's Campus Security Data Analysis
---
1 "Crime Rates on the College Campus" 2006. School Violence Resource Center
http://www.arsafeschools.com/Files/CrimeRateonCollegeCampus.pdf
2. "Summary Campus Crime and Security Statistics – Criminal Offenses". 2005. US Department of Education
http://www.ed.gov/admins/lead/safety/crime/criminaloffenses/index.html
3. Department of Postsecondary Education Aggregated Data For Calendar Years 2005 – 2007
4. "Convicted Sex Offenders Finding Homes Near Campus" 9/12/2008. FoxNews.com
http://www.foxnews.com/story/0,2933,421472,00.html
5. Student self-defense stories compiled from various sources via the Civilian Gun Defense Blog and the National Rifle Association's Armed Citizen archive.